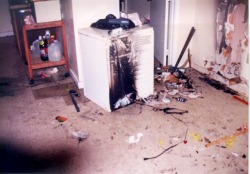 Clothes Dryer Fires in Residential Buildings

Findings:
-Clothes dryer fires account for about 15,600 structure fires, 15 deaths, and 400 injuries annually.
-Eighty percent of clothes dryer fires in structures occur in residential buildings.
-Annually, 12,700 clothes dryer fires occur in residential buildings resulting in 15 deaths and 300 injuries.
-Failure to clean" is the leading factor contributing to clothes dryer fires in residential buildings.
-New home construction trends place clothes dryers and washing machines in more hazardous locations away from outside walls such as bedrooms, second floor hallways, bathrooms, and kitchens.
---